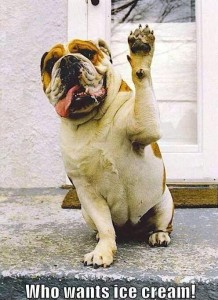 Teddy loves his ice cream!

So does this cutie!

Frenchie Eating Ice Cream with Human Hands! WHAT?!?!?

Louie loves him some DQ!

Jack is also enjoying his first frosty treat!

Bailey enjoys a IceBoneCream Sunday? Why not 🙂

This Frenchie has a habit I think and needs intervention…

You should know that feeding your baby human ice cream can actually be a bad thing because of dairy and other ingredients. There are safer alternatives to offer such as Nestle's Frosty Paws which my babies enjoy very much: http://www.nestleusa.com/brands/Ice-Cream/Frosty-Paws — We found it in our local grocery store in the freezer section.
Another option is to make your own homemade versions using the steps below:
"Step 1
Place the banana in a blender or food processor. Add 32 ounces plain yogurt. Scoop 2 tsp. of peanut butter and 2 tsp. of honey into the mix. Alternatively, try goat's milk yogurt for a treat containing much less lactose.
Step 2
Mix ingredients until well blended.
Step 3
Round up paper cups, small plastic containers, ice cube trays or muffin tins to use as molds for the mixture. Pour small amounts into the cups, muffin tins or plastic containers. Aim for a hockey puck shape and thickness to resemble the original Frosty Paws size.
Step 4
Fill an ice cube tray with the concoction to create handy bite-size pieces you can give to your dog when a regular-size frozen treat is too much.
Step 5
Freeze the treats, then put them in a freezer bag for easy storage.
Alternate Option
Step 1
Prepare the basic recipe as above, using 32 ounces of yogurt and banana and omit the honey and peanut butter.
Step 2
Add 1/4 cup strawberries, cranberries or blueberries for an antioxidant boost for your pup.
Step 3
Alternatively, add one can of pumpkin to the basic recipe and add 1/8 tsp. of carob powder.
Step 4
Mix and pour the mixture in the same manner as the basic recipe, and freeze." (Belmont, 2013).
Source:
Belmont, E. (2013, January 1). How to Make Homemade Frosty Paws (Dog Ice Cream). The Daily Puppy. Retrieved July 21, 2014, from http://www.dailypuppy.com/articles/how-to-make-homemade-frosty-paws-dog-ice-cream_1505.html