Part One: Is It Real or Fake? Tips for Finding Reputable Rescue Shelters
By: Brittnee McElroy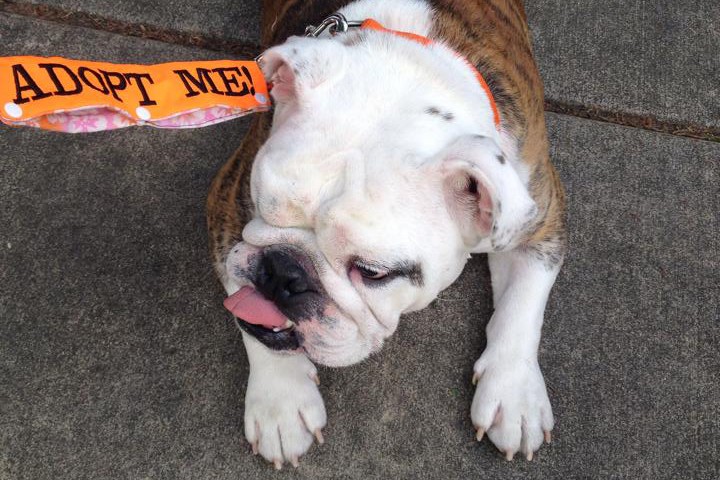 Credit: Bulldog Haven NW
Deciding to adopt a bulldog rescue is a big decision. You looked through different breeds and found one that will be the best fit for your lifestyle. Now, you need to find a rescue shelter.
Believe it or not, there are fake shelters out there. Here are some tips to help you weed out the deceivers.
Puppy Mills in Disguise
While many rescue shelters may look legit, there are some that are for-profit breeders.
It happens all over the nation. In 2011, the Humane Society of the United States submitted a complaint against a Missouri state-licensed dog breeder posing as a rescue group.
These for-profit "rescues" claim to rescue dogs from other facilities. Many dogs actually come from puppy mills. These breeders take advantage of dog lovers who truly care about dogs.
One question to ask is what services are included in the adoption fee? Petfinder.com states that genuine rescue groups and shelters should be able to tell you the basic health and history of the bulldog.
Reputable shelters will also have the dog spayed or neutered and checked out by a vet. They will also tell you if the dog has up-to-date vaccinations.
Keep in mind, due to cost, some shelters may not be able to offer all services. It's perfectly fine to ask questions about why they don't offer a service.
Questions, Questions, and more Questions
Petfinder.com also suggests that communication is very important. Making sure you are comfortable with the shelter and its staff is also vital. Even legit shelters can be overwhelmed or lacking in communication. You should ask some basic questions:
• Can I visit the shelter and meet the bulldog before adoption?
• What vet care has the dog had and what are his health concerns?
• Why was he surrendered and are there any behavioral problems I need to know about?
By taking the time to ask questions, you are finding out if the dog is going to be the right dog for you. These questions also help you find out if the shelter is organized and run efficiently.
So, if the group you want to rescue a bulldog from isn't asking you any questions, it may be a red flag. Most reputable rescue shelters are there for the benefit of the dog, not the human.
Their main concern should be finding that forever home. Some questions they should ask are:
• Why do you want a bulldog and does everyone in your family want this dog?
• What is your lifestyle and what are your living arrangements (renting or own a house)?
• Do you own other pets and how would this dog add to your life?
Trust Your Gut
The best way to figure out if a shelter is a legitimate one is to trust your gut. If you get a bad feeling about a shelter, do your research. Ask friends and family who may have adopted out of that rescue if they liked the process.
Go visit the shelter and if it looks dirty or the dogs are matted and unkempt, don't go through with the adoption.
If you get a bad feeling about a staff member or volunteer, ask to speak to another person. People have bad days and you may have just caught one in a bad mood.
However, if the majority of the staff is that way, then your best bet is to thank them for their time and move on.
Your heart will tell you which one is the best one for you. Just like picking the right dog, picking the right shelter is equally important.
There are plenty of resources to help you choose the right rescue shelter. Take your time. When the right shelter has the right dog for you, you will be grateful that you took the time and chose the right one.
Rescuing a shelter dog should be a rewarding experience, not a regrettable one.